In today's post we'll look at Ontario city population growth projections and then talk about comparing financial data between cities.
Ministry of Finance Population Projections
Our post is city themed, but we're going to cheat a little by comparing census divisions rather than municipalities but the population growth numbers coming out of the Ministry of Finance will become the basis for planning and other decision making for all levels of government. Provincially these projections are the basis for the provinces budgeting, resource allocations and infrastructure planning. The maps here are all from their excellent article on the subject.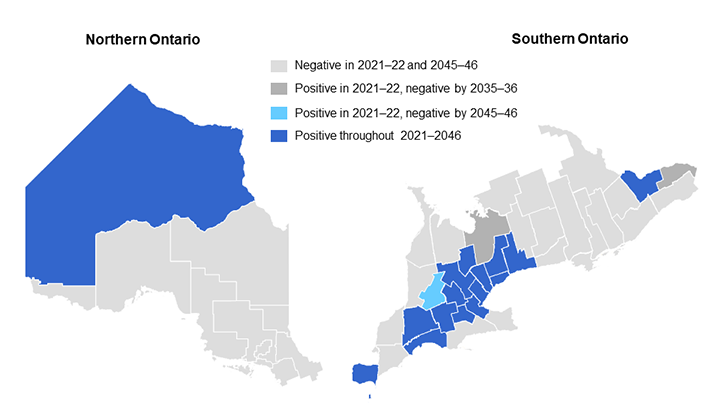 The above mapping from the Ministry of Finance reports shows which communities will have natural population increase/decreases throughout the population projection periods. This is really interesting because not only will during this 25 year period see the baby boomer cohort begin to pass away, but the positive birth rates are likely being driven by newcomers arriving in Canada and then starting families as immigration is going to be the largest driver of growth in Ontario.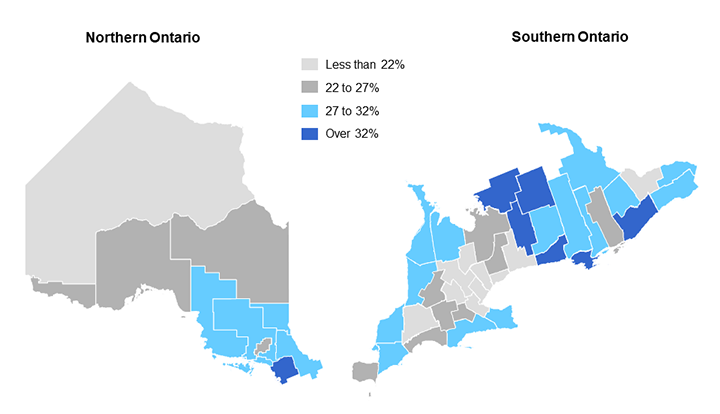 When we look at specific regions we see wide ranges in growth patterns and growth levels. As mentioned immigration will be a major driver of growth but that immigration will also set of a domino of people moving across the province. The patterns are pretty clear, the fastest growing communities tend to be those with core post-secondary institutions, which is why smaller more rural areas with lower growth rates and there is less attraction to these communities.
In the north, the young population is partially being driven by a growing and young indigenous populations, yet the only communities expected to construct through this period are also in this region. Here are some comparisons between cities in the regions:
A final note, these are projections, the full methodology can be found on the Ontario Ministry of Finance page but it is likely that these outcomes don't completely come to pass. These projections do not take into account unforeseen or unexpected events like economic recession, global pandemics, significant changes in government policy like immigration levels or settlement patterns all of which impact population levels. Every year that you get away from the base year the odds of something screwy happening increases.
Comparing municipal budgets
A little while back Doug was curious about growth in a specific line item in my local municipal budget: the cost of the Mayor's Office. Windsor's Mayor's Office budget nearly tripled between 2018 and 2021 and I wanted to compare this growth against other Ontario cities.
Using budget documents available on municipal websites Doug wanted to compare the 20 largest municipalities in Ontario. I ran into some challenges as the reporting across municipalities is not consistent. Some municipalities report their tax-funded budget separately from the full budget inclusive of Provincial transfers, while others do not. Some municipalities provide historical budget documents going back years, and others don't. Some municipalities only provide a high-level budget report on their website and do not provide a detailed breakdown of spending by department.
It would be great to show different metrics, but the only one that appeared reliable to me based on the source data was the cost per-capita of Ontario Mayor's Offices. An example of the challenges in comparing across municipalities: Sudbury (pop. 164,926) reports a total operating budget roughly comparable to Hamilton (pop. 536,917). Almost certainly Sudbury is reporting the gross operating budget inclusive of transfer payments.
Out of the 20 largest municipalities in Ontario, 11 break out the budget for the Mayor's Office. Some of the remaining 9 have a line item for "Mayor and Council" together and others don't report this separately at all.
Outside of Ontario there are some cities doing nice work. Grand Prairie, Alberta has a lovely Open Budget Site that provides tools for digging into revenue and expenses in detail. Better standards of transparency would make it easier for residents to dig into municipal spending and truly understand the financial position and spending priorities of their communities. Grand Prairie shows the way: municipal open data should move past maps and service statistics. Improved performance and financial reporting is a great place to start.
Historical Financial Performance – Ontario FIRs
A couple of years ago John built a website to compare municipal financial statements to each other: The source of the data was from the Ontario FIRs:
https://efis.fma.csc.gov.on.ca/fir/index.php/reports-and-dashboards/
It was a good exercise. Turns out the Association of Municipalities of Ontario have their own site that does something very similar, but only municipal governments can access it. OnCityBooks filled a gap for the public at large. That said, I did encounter issue when trying to compare municipalities with the FIRs. Here's a non-exhaustive list:
The FIRs are standardized and detailed. That is extremely helpful for things like comparisons. The downside is that it makes them very technical – to both interpret and compile. Municipalities often take months to submit their FIRs after the financial year is complete
The FIRs are historical records of financial performance. Budgets are forward looking documents. Many municipalities use different accounting systems and definitions for each – even though many government transparency organizations wish they wouldn't. This, of course, makes the FIRs somewhat less useful for budget discussions. Not to mention it is almost always the case that the previous year's FIR is not published prior to the new municipal budget discussions.
Even though the FIRs are standardized, the rules each municipality has to play by are different. Cities of different sizes have different provincial mandated requirements for their service, for example
Cities that you may very much like to compare to each other can't be because they may exist in what's called a different tier. Ontario has different classification of municipal tiers. Single Tier has no larger county government. Smaller cities making up a larger region are lower tier municipalities belonging to an upper tier larger group of municipalities. That said, even some very large cities like Kitchener can be lower tier municipalities that have few good comparators